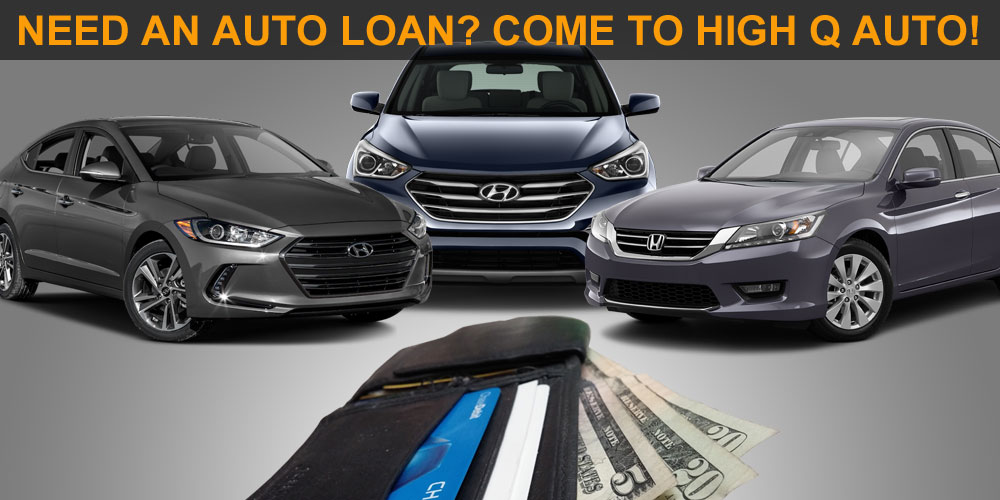 The Reality of Special Financing
The Pros and Cons of Subprime Auto Loans
You've browsed local used car dealership inventories online, found the car of your dreams, and now you have to figure out how you're going to pay for it. When you have poor or damaged credit, not knowing if you are going to be able to qualify for a loan to finance a car can be a big concern.
Can I get an Auto Loan with Bad Credit?
Luckily, special financing options are available to car buyers with bad credit, so-so credit, and no credit. So don't worry, you can still secure a car loan even if your financial records are less than perfect. However, if you aren't working with a credible dealership, you may risk getting into a subprime auto loan that you don't understand.
High Q Auto wants you to fully understand the pros and cons of special financing auto loans. We understand that people have made financial mistakes in the past, and it's important to start making the right moves, especially when it comes to making an investment in a pre-owned car purchase.
What is a Subprime Auto Loan?
A subprime auto loan, as defined by Investopedia, is "a type of auto loan approved for people with substandard credit scores or limited credit histories. It should be noted that these loans carry higher interest rates than equivalent prime loans." Officially there is no cut off between subprime and prime credit scores; however, lenders typically view borrowers with a credit rating of 660 or less as a credit risk. As a general rule, borrowers are grouped into the following categories:
Prime: credit score between 681 and 780
Nonprime: credit score between 601 and 680
Subprime: credit score between 501 and 600
Deep subprime: credit score below 500
What are the Advantages and Disadvantages of Subprime Auto Loans?
Pro: Getting Approved Is Easy
The ease of approval is probably the top benefit when it comes to subprime vehicle financing. Many people run into financial difficulties at some point in their lives due to a variety of reasons. Whatever the circumstances may be, nobody actually wants to get into a bad credit situation that will make it difficult or impossible to obtain a standard vehicle loan, but that is the unfortunate reality. Thankfully, subprime auto financing opens doors for car shoppers who have previously fell on hard times, providing them with an opportunity to get the loan they need to purchase a new or used vehicle, in spite of their current credit situation.
Pro: Rebuilding Credit
Obtaining special financing gives people the opportunity to build or rebuild their credit score to prime status. Consistent on-time auto loan payments will improve your credit score overtime. Depending on how much and how quickly your credit score improves, you may be able to refinance your current subprime vehicle loan at a better interest rate down the road. In the future, you will be able to obtain a better loan and monthly car payment on your next vehicle purchase because you have proven your creditworthiness by making timely payments on your subprime loan.
Con: Higher Interest Rates
Because subprime borrowers are considered a high risk by lending companies and banks, they are charged a much higher interest rate. The average interest rate for subprime borrowers is 16.25%. Those in the deep subprime category are charged an average of 19.25% compared to nonprime borrowers who are only charge as low as 5.49%. To see how these interest rate percentages actually affect the amount of a monthly car loan payment, below is an example of a 60 month $16,333 auto loan for each credit group:
Nonprime: (5.49 %) = $311 per month
Subprime: (16.25%) = $399 per month
Deep subprime: (19.25%) = $425 per month
As you can see, interest rates can affect your monthly payments to the point that it can come between what you can and cannot afford. Additionally, when obtaining a subprime loan, processing fees and other fees related to the loan are also a higher price. The higher interest rate and higher fees compensate for the risk of lending money to those without a strong credit history, so the bank can collect more money from you in the event you default on the loan.
Pro and Con: Longer Loan Duration
A loan for 72 months, 84 months, or even 96 months could be beneficial in terms of your monthly budget because it breaks up the total cost of the car into the smaller more affordable payments. However, the enticement of a lower monthly payment can distract from the percentage rate which adds to the total price of the car overtime. The loan may seem affordable now but, you end up paying significantly more for the car once the loan is paid off.
Where Can I Get Car Loan Financing?
If you have been looking for a quality used car dealer in Hollywood Florida, High Q Auto can help you get used car financing with rates you deserve. Getting a car loan with bad credit in Hollywood can be risky if you're not working with the right dealership, so make sure you only deal with the best and come see us so you can get the best used car deals in Hollywood and the best auto financing for your needs.
Payment Calculator
Enter Your Details. Changes will update automatically
* These estimates do not represent actual loan offers. They should only be used as a reference for what you might expect to pay from a third party lender.